Employment in the Civil Service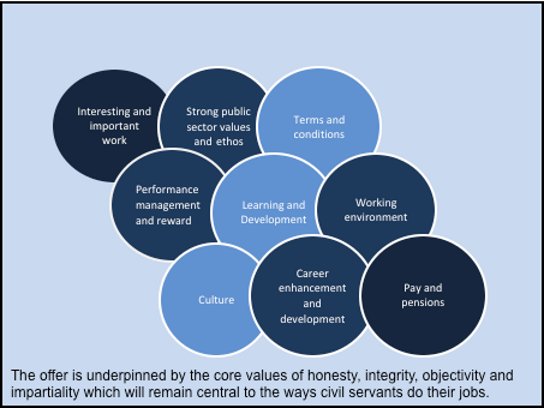 Considering the Government's plan to make the Civil Service smaller and more efficient, finding an employment in Civil Service may not be an easy job. Nevertheless, qualified professionals are always highly sought after.
Finding a job in the Civil Service is very similar to finding a job elsewhere. You need to meet the requirements for a vacant job and apply. There are a number of ways to apply for a job in the Civil Service. An option is also to apply online at the official website.
The Civil Service is covering 22 jobs in its departments, agencies and non-government bodies. They can be categorised into the following 10 professions:
Government Finance Service. It employs more than 8,500 finance professionals including trainees and qualified accountants who cover a wide range of areas including support to the Head of the Government Finance Profession.

Government Legal Service. It employs lawyers who offer advice to the Government on a variety of issues.

Government Statistical Service. It employs more than 1,200 professionals who collect, analyse and interpret data on a variety of issues and report to the ministers.

Government IT Profession. Probably one of the fastest growing Civil Service professions employs IT professionals in virtually all fields of public service. Their job is to facilitate the citizens as well as the businesses an approach to any information or service at any time and any place.

Government Actuary's Department. Its job is to provide actuary analysis to the clients of the public sector. The department currently looks for trainee actuaries with a 2:1 degree in mathematics, economists or statistics.

Government Operational Research Service. Professionals who are working for the Government Operational Research are providing support and advice to the Government on efficient use of taxpayer's money as well as on formulation and implementation of government policy.

Government Social Research Service. Civil servants who work for the Government Social Research Service carry out research on development and implementation of a variety of policies.

Government Procurement Service. It is responsible for providing procurement savings on goods and service in the public sector in order to optimise the use of taxpayer's money.

Defence Engineering and Science Group (DESG) Student and Graduate Schemes. It offers support to science and engineering students and graduates in pursuing education or training through:

DESG Graduate Scheme. It is intended for final year students who will receive training.
DESG Student Sponsorship Scheme. Like its name suggests, it offers sponsorship to science and engineering students who attend a relevant accredited degree course for the duration of the course.
Defence Technical Undergraduate Scheme. It offers sponsorship to a certain number of students who are attending an accredited science or engineering course at the universities of Aston, Loughborough, Northumbria, Newcastle or Southampton.
Defence Sixth Form College, Welbeck. It is a great starting point for students who would like to work for the Armed Forces or Ministry of Defence Civil Service.